To improve air pollution and global warming problems, European and American countries have adopted policies and development goals promoting the phase-out of fossil-fuel cars and purchasing of electric vehicles (EVs). The development of EVs is evidently the latest irreversible trend. Optimistic about the charging demand and business opportunities driven by the popularization of EVs, Delta Electronics, a global leader in power and energy management, is aggressively expanding the EV charging market to provide a perfect master plan, solutions, and services for communities/buildings and other home charging station markets.  
To reach net-zero emissions by 2050, increasingly more countries are setting a deadline to ban the sale of fossil-fuel-powered cars by 2040, while a number of automobile manufacturers have set out plans to become EV-only automakers. Although only 6,610 EVs were sold in Taiwan in 2020, accounting for 1.4% of the country's entire automobile market, it far exceeded Germany's 308% growth rate, ranking third in the world. This performance highlights the promising prospect for Taiwan's EV market. The subsequent mass increase in charging demand will inevitably drive the total deployment of home, commercial, and public charging infrastructures, thereby promoting the complete popularization of EVs.
Master planning accelerates the optimal deployment of community charging infrastructures
In the nascent phase of EV development, petrol stations, public parking lots, or highway rest areas are generally the key locations for EV charging facility deployment. Observing the recent trends of European and American markets, Mr. Mingyu Jiang, Senior Product Manager of Delta EV Charging Solution, indicated that charging facilities account for about 5% of these spaces, with the other 15–35% going to commercial areas (e.g., commercial parking lots, hypermarkets, commercial buildings, and EV fleets) and up to 60% going to residential areas (e.g., detached residences, apartment communities, and multi-dwelling units). Public, commercial, and home charging stations are complimentary. This trend also suggests that residences are of utmost importance to EV charging and represent a key milestone in EV development.
Problems of deployment of community charging
EVs are usually parked at home after work and generally stay there until the next morning, and it is during this time that EVs can be completely charged without impacting the consumption of community electricity. Therefore, deploying charging stations in residential complexes is both convenient and practical. Because urban residences in Taiwan are largely multi-dwelling units, communities, or apartments (many without elevators), installing charging stations is often met with opposition by residents, and there is a multitude of problems that need to be addressed, including unreserved spaces for electric power, cable distribution in buildings, safety concerns about community electricity and equipment, management approaches, and aesthetics.
Residential buildings today are commonly associated with inadequate electric distribution problems, except perhaps for newly constructed buildings. For residents that install EV chargers at home by connecting them to their electricity meter, improperly distributed electric power might cause power outage in the neighborhood, and a tangled mess of electrical cords also poses safety and aesthetic concerns to the community. Connecting EV chargers to community-owned electricity meters might lead to disputes about community-shared electricity bills, fights over who gets to install first, power shortages once the electricity quota is used up, or unable to install additional chargers. EV chargers must be installed with absolute care to prevent the possibility of electrical leakage or fires among other safety concerns, all of which can endanger the life and property of residents.
As can be seen, by the butterfly effect of EV charger installation, the absence of a proper comprehensive assessment will only lead to unnecessary disputes and disruptions. "Your charging station is not just yours," Mr. Jiang said. "To avoid the problems mentioned above, a master planning that takes everything into consideration, from electric power, cabling, and management systems to equipment quality and consistency, must be devised early to avoid successive installations as much as possible."
Installing an independent electricity meter exclusively for EV charging, coupled with Delta's charging stations and EV charging management system for energy management. In doing so, multiple chargers can be installed under the given electric power condition, and this approach would triple the number of EVs that can be charged at the same time.

Mr. Jiang
Only effective master planning can meet the charging demands of not only a few residents now but also those of the whole community in the future. Homeowner associations should avoid putting themselves at risk of mismanagement when residents insist on installing their own charging devices, and too many contractors also render it difficult to identify who should be accountable for any problems that may arise.
Front-end internationally certified charging stations perfectly integrated with a back-end OCPP cloud management platform
Delta Electronics, with its decades of experience in EV systems and charging facilities, frequently cooperates with world-leading automakers and charging station manufacturers. The company adopts quality control verifications in line with vehicle compatibility testing and global vehicle regulations and has sold millions of chargers around the world. In September 2016, Delta joined international charging industry alliances such as Charln e.V.J and CHAdeMO, completely demonstrating its forward-thinking approach to global integration. With more than 10 years of investment in technology R&D and manufacturing, Delta is ready to bring its years of experience in the European and American markets back to Taiwan to provide faster and greener EV charging infrastructure solutions.
Delta product profolio for community charging
Delta offers a highly versatile portfolio, including 7–17.6kW AC chargers and 25–350kW DC chargers. AC MAX is a smart commercial and home AC charger that supports a maximum output of 17.6kW, and it won the Silver Award at the 2021 Taiwan Excellence Awards. The AC Mini Plus is a trendy-designed 7kW DC charger that also won a Taiwan Excellence Award in 2019. In addition to supporting global charging standards, wireless networking communications, and the Open Charge Point Protocol (OCPP) management system, both products provide IP55 protection against dust and water and IK09/IK08 protection against impact.
| | | |
| --- | --- | --- |
| Model | AC Mini Plus | AC MAX |
| Applications | Detached house, Apartment | Apartment, Commercial building, Public parking lots |
| Rating Power | 32 A, 7 kW | 80 A, 17.6 kW |
| Dimension (HxWxD) | 36.3 x 31.8 x 13.6 cm | 37.1 x 21.8 x 16.7 cm |
| Weight | 4.4 kg | 3.8 kg |
| Network Interface | Ethernet, WiFi | Ethernet, Wifi, Cellular |
| Electrical Protection | Over current, over voltage, under voltage, surge protection, short circuit, ground fault, over temperature | Over current, over voltage, under voltage, surge protection, short circuit, ground fault, over temperature |
| User Authentication | RFID | RFID |
According to Mr. Jiang, it is possible to manage multiple chargers with only a single OCPP-supported cloud management platform that offers comprehensive equipment and energy management functions. Such a platform can ensure real-time monitoring of charging equipment and user authorization while integrating management functions for optimal efficiency in energy and operational management.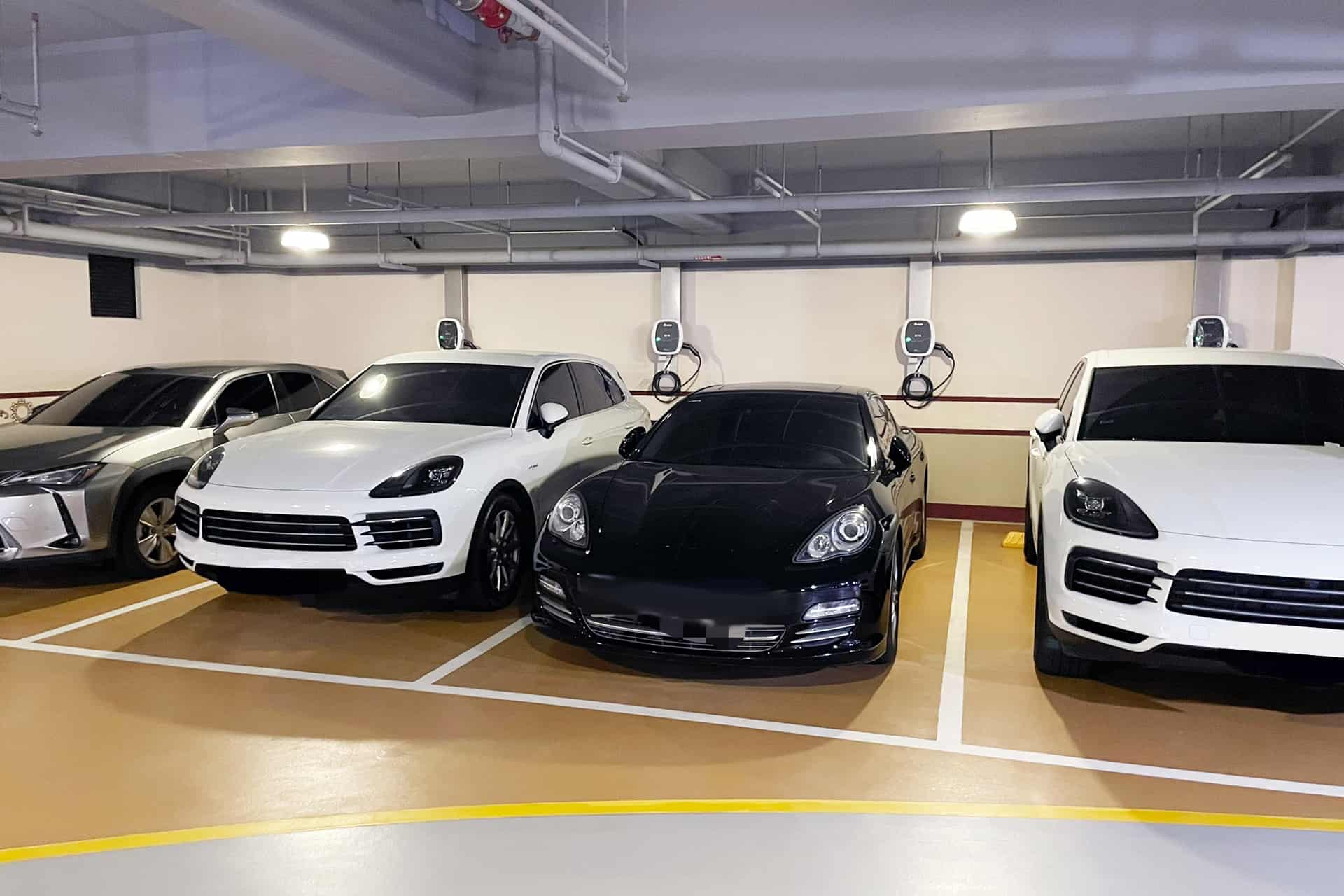 There are numerous community-based masters plans using Delta's charging solutions. For example, in one of the more representative communities in Linkou, 56 households crowd-funded the installation of 30 wall-mounted AC Mini Plus chargers. As recommended by a team of experts from Delta, an independent electricity meter exclusively for the EV chargers and a one-off electric power setup to meet future demand were installed on all three floors of the basement parking area. Additionally, the DeltaGrid® EV Management back-end system was set up in the building management office to facilitate remote monitoring and day-to-day management by community property managers. Such a well-thought-out plan ensures no charging overload in the future.
As part of its next step, Delta will continue to improve its technical expertise in the expansion of home, commercial, and public charging infrastructure markets, and accelerate the development of master-planned community-based charging infrastructure, thereby laying a solid foundation for the total popularization of EVs.
---
Insight of Community Charging
【Delta Webinar】Master Planning of Community Charging
Learn more…
Delta create grid-friendly EV charging infrastructure for shopping malls
Delta's EV charging solution makes Taipei City electric vehicle-friendly