The establishment of charging infrastructure is a key determining factor of whether electric vehicles (EVs) can be popularized. To accelerate this trend, Delta has integrated its software and hardware development capacities to develop an Automatic Test System for AC/DC chargers. The system can be used to simulate charger usage scenarios, perform a comprehensive range of test items, and verify mainstream protocols. It improves the overall testing process and makes research and development more efficient, which can substantially reduce a newly developed product's time to market.
The research and development of EV chargers involves a range of standard test items. When a conventional manual approach to testing is employed, the process becomes both time-consuming and imprecise. Different countries having different protocols also presents an obstacle for test facilities. To overcome these problems, Delta launched the Automatic Test System for AC/DC Chargers. With support for DIN 70121, ISO 15118, and CHAdeMO (v0.9, v1.2, v2.0, and V2H_A/B), fully automated testing and comprehensive report generation can be performed at the click of a button. Modular testing can also be performed to target specific test items. The system was developed at Delta's EVSE Charger Laboratory in Chungli Plant. Using this system, tests that previously required weeks of repeated manual operations can now be performed precisely in just a few hours. It has been instrumental in accelerating Delta's charger research and development process.
Manual testing: A time-consuming and incomprehensive approach
In the past, when charger manufacturers or R&D units developed a product, they would use third-party systems and manually conduct testing and performance verification. The number test items each system could perform was generally limited, and so multiple systems would need to be purchased for more comprehensive testing to be achievable. Furthermore, engineers would have to manually control devices and test functions or protocols one by one, and then interpret the results themselves. Not only would the entire process take considerable time and energy, but the manual
aspect of it left room for human error, which, when it accumulates, can generate imprecise test results and negatively affect product quality. However, these bottlenecks and difficulties in developing and testing chargers can be completely resolved using Delta's Charger Automated Testing System.
ATS: Faster R&D and broader scope of deployment
EVs will play a critical role in building a green future where environmental friendliness and energy conservation are common social values. The EV market is a growing market that is highly competitive for all manufacturers. One key factor in achieving EV market growth is the broad deployment and establishment of EV charging stations and standalone EV chargers. As a representative supplier for global charging facilities, Delta spares no effort in ensuring its R&D of charging facilities is at the cutting edge.
The goals of establishing an Automatic Test System for AC/DC Chargers are to improve the R&D efficiency of testing chargers and ensure that products function reliably. The system can simulate all EV behaviors while charging, contains comprehensive standard function testing items, and can verify mainstream protocols. This means that comprehensive testing can be conducted using just the one system. With just the click of a button, automated testing can be performed and testing analysis reports can be generated immediately. The speed and precision of this system eliminates the need for the tedious process of repeated testing. The system can also be integrated with MESs in factories, creating a smart, highly efficient R&D and manufacturing procedure that improves the efficiency of the entire production line and makes products more competitive.
Software and hardware integration powering a comprehensive test system
Delta's Automatic Test System for AC/DC Chargers is four 41U standard cabinets in size.
The hardware components include four AC power supplies (105 kVA), Delta's EV charging behavior simulator (including two charger nozzles), six DC electronic loads (60 kW), three power conditioning systems (125 kW PCS), and power measurement/analysis equipment. Through Delta's PCS, the DC used for testing can be converted to AC and be connected back to the grid, achieving the effect of energy recycle and reuse and saving on electricity costs.
The main software include: Smart One testing platform, charger power test item suite, EV simulation suite, and standard protocol testing suite. Of particular importance, the Standard Protocol Testing Suite ensures that newly developed chargers can be adapted to different protocols for EV charging.
Simulated charging environment for wider testing coverage
The major product features and advantages of the Delta Charger Automated Testing System are as follows: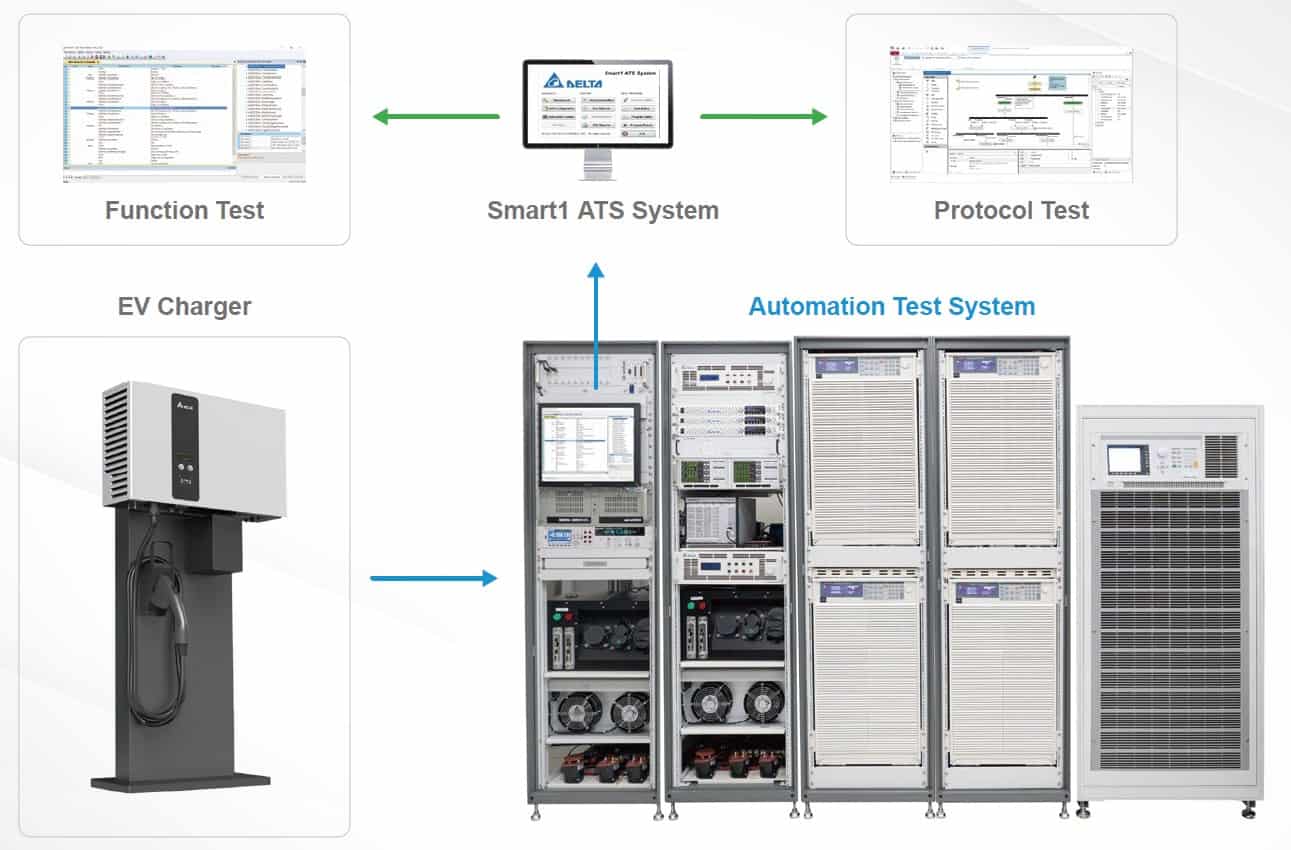 Testing for both functions and protocols: The system covers a comprehensive range of standard function test items and protocol tests, and this can be expanded to include new or new test items. This resolves the problem of conventional charger testing facilities having limited test item coverage.
Mixed testing ability for two nozzles: The system can simulate the charger charging two cars, either simultaneously, one after the other, or at the same time but using different connector types. This ability for the system to simulate a mixed charging environment offers a truly realistic means for testing charger performance.
Simulated fault injections: The system can introduce errors for broader testing, helping elucidate how chargers will respond when abnormal signals occur. This testing technology is based on actual simulations and experimental results, so it is more effective than those based on statistical methods.
Easily switch between automated or modular testing: Users need only press one button to perform a comprehensive, automatic testing procedure. Alternatively, they can switch the
system to conduct modular testing for greater flexibility in testing key items. Comprehensive reports can be automatically generated to speed up problem analysis.
Recycle electricity used in testing: Delta's PCS system can covert the DC used in charger testing into AC and feed it into the grid for future testing. This energy recycling effectively reduces electricity costs for laboratories.
Flexibility for system expansion: Not only can the hardware be set up according to actual use, but through using Delta's Smart One software platform, the level of device control and number of test items can be expanded.