To keep up with renewable energy trends, factories, corporate offices, and utility operators have been establishing large-scale solar power systems on their sites. Delta Electronics, a global leader in power and thermal solutions, launched the M100_210 three-phase solar inverter. This product was designed specifically for large-scale sites and has a conversion efficiency up to 99%. To ensure maximum operational efficiency, the M100_210 utilizes a string design to achieve a centralized architecture that can be flexibly arranged based on clients' actual needs. Operation and maintenance are easy; with low energy transmission loss, this also means higher operational value.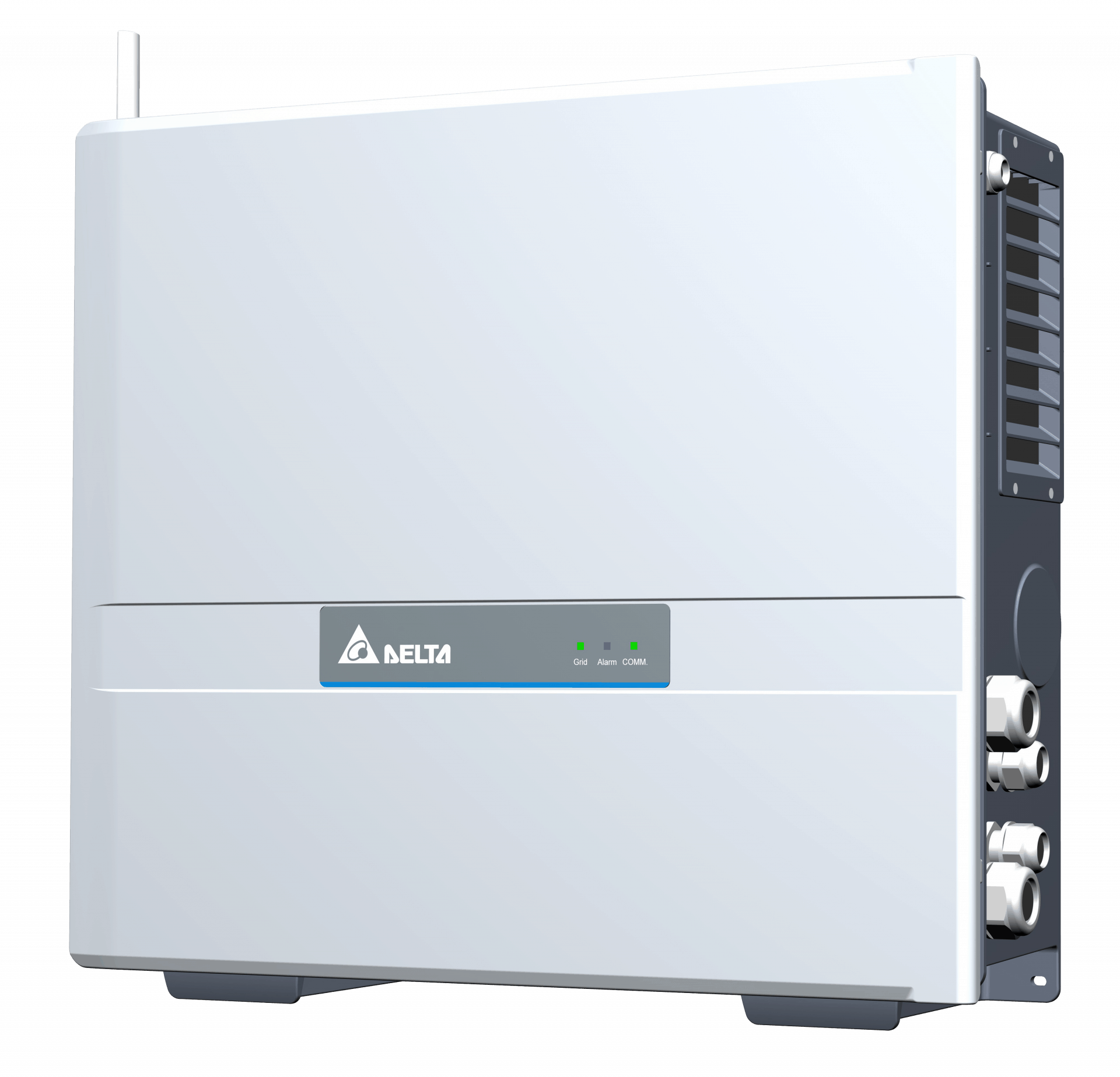 To increase energy and management efficiency, Delta continues to develop innovative technology. The M100_210 adopts a mini-central architecture with a DC combiner box installed in the solar power module and inverters centralized on the transformer side. This design overcomes limitations from inverters being widely dispersed, which means simpler operation and maintenance as well as more flexible planning and design. In addition, the shorter distances between inverters and transformers on a site also reduces energy transmission loss. Remote monitoring on large-scale sites is made possible via built-in SUB_1G wireless communication, which simplifies the configuration of wired setups, making inspection and repair more convenient.
Regarding system safety and the convenience of daily maintenance and operation, the M100_210 offers arc-fault protection, string current monitoring, and I–V curve scanning. Operation status can be monitored at any time for optimizing the system operation time of electricity generation. The arc-fault protection references the UL1699B Standard and can pinpoint the location of an arc fault. When an arc is detected, the inverter will automatically switch off to prevent fire hazard and property loss. Paired with Delta's DB18 Smart Combiner Box, the M100_210 can also perform string current monitoring. For this, the value of each string current is used to detect abnormalities. It can also initiate I–V curve scanning in the monitoring platform. Data can be obtained from only 30 seconds of uninterrupted power and the curve can be used to determine whether module cleaning or replacement is necessary.
With a life cycle up to 20 years, quality and durability are critical for this type of equipment. The M100_210 received IEC 60068-2-52 certification for protection against salt mist and is C5 rated for corrosion protection. Furthermore, its material selection, design, and quality control are meticulous. In addition to adopting solid-state and film capacitors, which exhibit excellent reliability and life expectancy compared to traditional electrolytic capacitors, the M100_210 adopts a toggle latch design to reduce the risk of damage and ensure that the system operates stably for many years. Its rugged design also means that it can operate in environments from −25°C to +60°C, and it can be installed on ground or mounted on a wall. Compared to other inverters with similar power on the market, the M100_210 is lighter and can be moved by just two people.
PV setups are being applied to a diverse range of sites. The M100_210 is applicable to floating, business rooftop, or ground type power stations. Its advantages are both the string design and centralized design, and the unit is the optimal option for MW-level sites. Learn more information on our full series of solar inverters.
Green your offices or factories with PV systems, talk to a Delta expert