12 MPPT sets and EL image testing allow for flexible planning and convenient operation and maintenance.
In recent years, enterprises have been zealously developing large-scale commercial solar plants. A struggle that the solar plant industry faces is the tradeoff between high power capacity and efficient operation and maintenance. For ground-mounted solar power plants, Delta has launched the M250HV high-capacity string inverter, which is equipped with 12 sets of MPP trackers with an output power of 250kW and efficiency of up to 99%. This design not only accommodates flexible planning for large-scale solar power plants, but it also makes them more convenient to establish, maintain, and operate.
In the past, large-scale solar power plants mostly adopted a centralized design. The advantage of this approach is that it requires only a few high-capacity inverters. However, because inverters are large and their maintenance and operation often rely on technical support from the original manufacturers, this can result in considerable difficulties in subsequent maintenance. In addition, any malfunction can have a large-scale impact, often resulting in a complete halt in operations. In contrast to centralized inverters, those with a string design are small and easy to install. In fact, they can be installed directly on the support frames of PV panels. However, such inverters currently on the market have a small capacity, and using them on large-scale sites means you would have to install many of them, which undermines their advantage of convenient and quick installation. For maintenance, using a string system makes it easy to identify the point of malfunction, meaning that inspection and repair efforts can be focused on impacted panels without affecting site-wide operations.
High capacity with the advantages of a string-type design—Zero compromise on maintenance and operation efficiency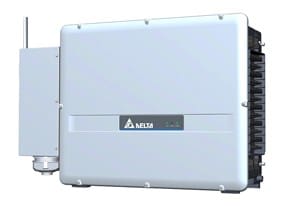 Delta has made a developmental breakthrough with its inverter technology. In addition to increasing the efficiency of their inverters, their capacity and performance have also been improved. This goes beyond creating a balance between the pros and cons of adopting a decentralized system, bringing the advantages of string-type designs to fore. The M250HV's capacity of 250kW more than doubles the 100kW offered by typical commercial inverters, giving the immediate benefit of requiring less than half of the number of inverters that would typically need to be installed. This not only makes site design more flexible and reduces the cost of equipment, materials, and installation, but it also simplifies subsequent inspection and repair procedures. These factors reduce the cost while improving on the capacity of centralized systems.
Improved performance and greater flexibility in planning
Delta's M250HV is a three-phase string-type inverter that can connect in parallel to the grid. Designed specifically for megawatt-level large-scale PV sites, it is equipped with 12 wide-voltage MPPT sets, supports Y-connection input, and can be connected in series with more solar panels to improve the DC/AC ratio for enhanced power generation performance. In addition, the M250HV adopts solid-state and thin-film capacitors, which are of higher quality and have a longer life span compared to conventional aluminum electrolytic capacitors. The M250HV has a built-in DC switch, surge absorber, and fuse-free design, meaning that sites do not require installation of additional DC combiner boxes. A string-type inverter is lighter than a centralized one and requires just two people to move it without the need for large equipment. It can be installed on the ground or wall-mounted, and it has an independent AC wiring box to make the installation easier and safer. These designs make site planning more flexible.
Unique EL image testing mode—Save time and effort in daily maintenance and operation
The most significant advantage of string inverters is the convenience they bring for monitoring and management. The M250HV has built-in SUB_1G wireless communication functionality. When paired with Delta's DC1 Data Collector and MyDeltaSolar cloud management platform, operators and business owners can monitor their site status at any time. When needed, firmware updates can be performed over the air, eliminating the need for on-site visits.
Regarding system safety and daily maintenance and operation, the M250HV features PRO EL mode, which makes EL image testing easier. During testing, it is unnecessary to connect PV panels to an external DC power supply; rather, the inverter itself is used. When used with an EL camera, the internal layers of modules can be inspected for cracks, which considerably shortens inspection times for large sites by eliminating the need to install and uninstall a power source at night. The M250HV's arc-fault protection references the UL1699B Standard and can pinpoint the precise location of arc faults. When an arc is detected, the inverter will automatically switch off to prevent any fire hazard or property loss.
Smart monitoring improves system uptime
The M250HV can also perform string current monitoring, which involves analyzing the value of each string current to detect abnormalities. It can also perform I–V curve scanning in the monitoring platform. Data can be obtained from only 30 seconds of uninterrupted power, and the curve can be used to determine whether the module requires cleaning or replacement. With the M250HV, the operation status can be monitored at any time to improve system uptime and optimize power generation performance.
As site capacity and scope continue to grow, the M250HV offers the advantages of both string and central inverter designs. It is the optimal choice for ground-type sites at the megawatt level. For more information on our series of solar inverters, please contact Delta or visit our website https://www.deltaww.com/en-US/products/Photovoltaic-Inverter/ALL/
Looking for high performance solar inverter? Talk to a Delta expert today