Major manufacturers around the world have successively joined the RE100 initiative to commit to 100% renewable energy. This trend has thus prompted supply chains to transition toward green energy. San Shin Industry Co., Ltd. is a company based in Southern Taiwan, specializing in the recycling of chemical and solvent waste. To keep pace with green supply chain trends, San Shin's new plant in Pingnan Industrial Park has installed Delta's 250kW/528kWh energy storage system, which is integrated with a 140kW rooftop photovoltaic (PV) system and the DeltaGrid® Energy Management System, to schedule and regulate electricity usage within the plant. This new plant commenced operations at the beginning of 2022. Through energy management, the plant was able to optimize its electricity usage curve, successfully reducing their contract capacity from 600kW to 400kW, thereby helping the company lower its monthly electricity bills. As one of the first small and medium-sized enterprises to install renewable energy and energy storage systems, San Shin hopes that its voluntary green actions will serve as an example for other chemical and solvent recycling companies to help them acquire more business opportunities from semiconductor manufacturers.
Increasing competitive edge with renewable energy
San Shin envisions a future where the use of renewable electricity will be the norm after the manufacturing industry has achieved a sustainable economy. The company incorporates its core business activity—waste solvent recycling—as an integral part of the circular economy. It also hopes to leverage renewable electricity throughout their recycling process and help customers build a green supply chain to fulfill their RE100 commitments.
Pingtung has an advantage in the development of PV systems because of its exposure to plenty of sunshine. A PV system can generate electricity at full power with approximately 4.5 hours of sunshine per day. San Shin leveraged the geographic advantage of its Pingtung plant and installed Delta's PV inverter beside the plant to set up a 2MW ground-mounted PV facility that can generate power for its commercial operations. A 140kW rooftop PV system was installed on the plant building and parking area to generate renewable electricity for the plant's waste solvent recycling facilities.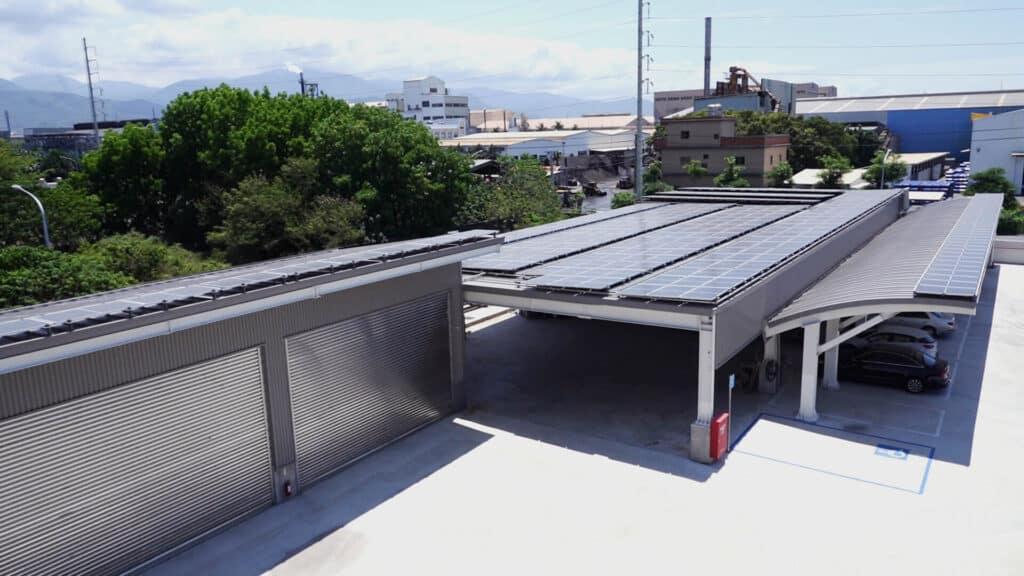 However, completion of the PV system installation does not mean that the road to green transformation will remain unhindered. Failure of the renewable power supply to meet demand or when renewable power is generated and used at different times, this compromises PV system performance. For example, equipment that runs at night cannot be powered by a PV system, in which case the company must purchase electricity from the grid and discard the power generated during weekends and holidays or any excess electricity that is unused during the day. Therefore, how to fully utilize green electricity and optimize the utilization rate of solar power is a new problem that San Shin has faced since installing its PV system.
Furthermore, power outages in recent years have compelled San Shin to realize the value of maintaining a stable power supply in its corporate operations. Hoping to ensure a stable power supply for its plant, San Shin sought Delta's assistance for its energy storage solution given that Delta had already provided them with high-quality inverters for their PV system.
Optimal electricity consumption with integrated solar power, energy storage, and energy management solutions
San Shin's Pingtung plant opted for Delta's industrial energy storage solution, which consisted of two sets of 125kW power conditioning systems and three battery energy storage cabinets with 176 kWh installed capacity. The entire system has the capacity to store 528kWh of electricity and is integrated with the DeltaGrid® Energy Management System for energy conditioning and monitoring. For companies such as San Shin, who are generally unfamiliar with the planning of electricity and energy equipment, Delta's one-stop energy storage service is extremely helpful in that the entire process, from early system planning and assessment to post-setup maintenance and training, is completely supported by a team of local engineers and technicians.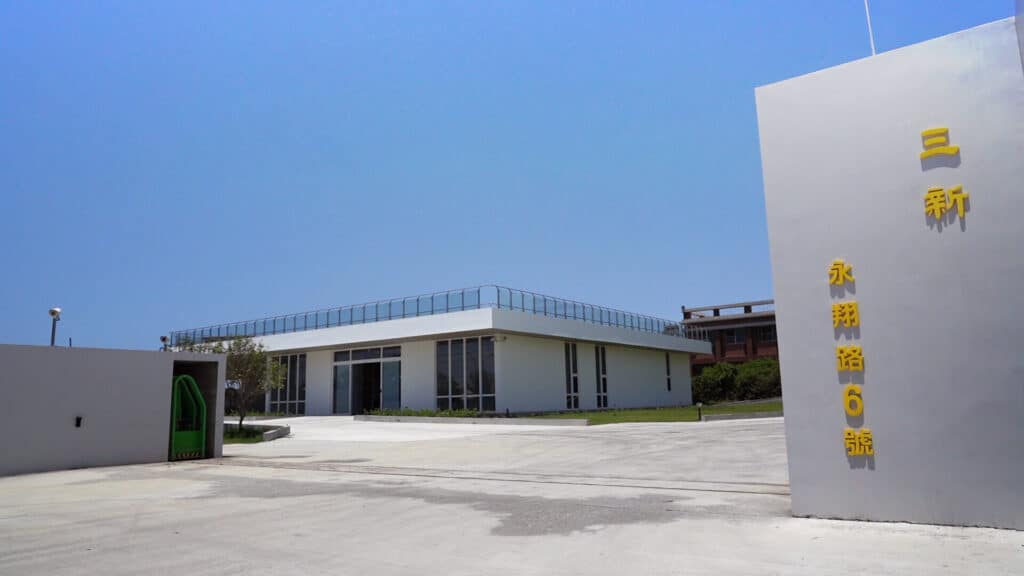 The application of this energy storage system is as follows:
1. Load shifting for greater solar energy efficiency: San Shin's Pingtung plant uses solar energy to generate approximately 40% of the electricity used in in-plant consumption. Any solar power generated during weekends and holidays can be stored in the energy storage system for use during weekdays. The system stores and shifts energy and thus avoids wasting any unused energy in order to maximize the self-consumption and utilization of solar energy.
2. Peak shaving for optimal electricity consumption: San Shin adopted the DeltaGrid® Energy Management System, which integrates municipal utility, solar power, load, and energy storage systems to generate data on all power supply and consumption. This data can be used by plant administrators to analyze short-, mid-, and long-term power consumption patterns and determine the optimal power distribution model. The energy management system enables automatic charging/discharging scheduling for both the PV and energy storage systems. For example, solar energy is usually used during the daytime to power in-plant equipment; on rainy or cloudy days when PV electricity is insufficient or peak usage exceeds set thresholds, the energy storage system supplies power and keep the total in-plant power consumption within a stable range, as represented by the red line in the diagram below. During off-peak periods such as at night, municipal electricity, which is relatively cheaper, is used to charge the energy storage system until it reaches the default value. In the short run, this approach helps avoid penalties from overuse; in the long run, it can flatten the load curve and help the plant identify the ideal contract capacity needed to reduce electricity costs.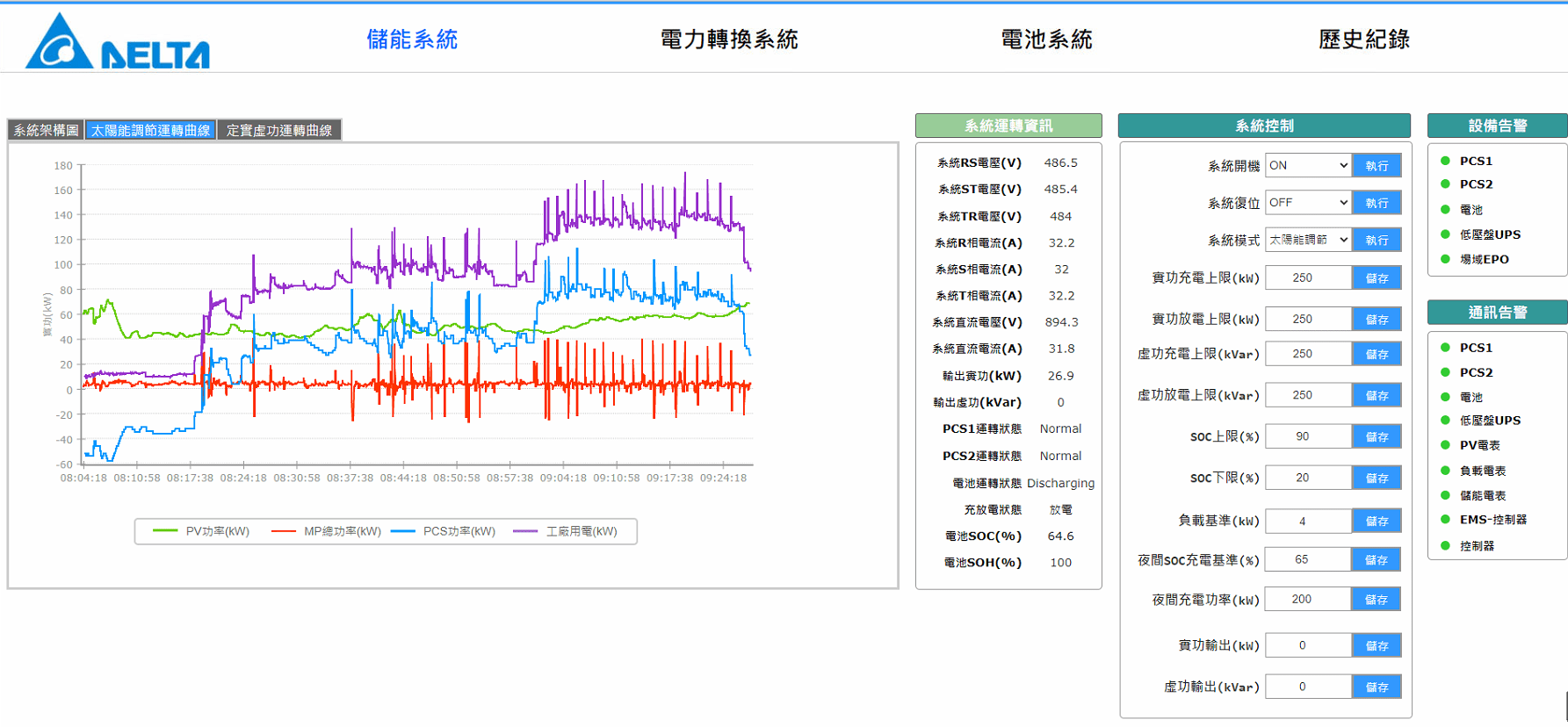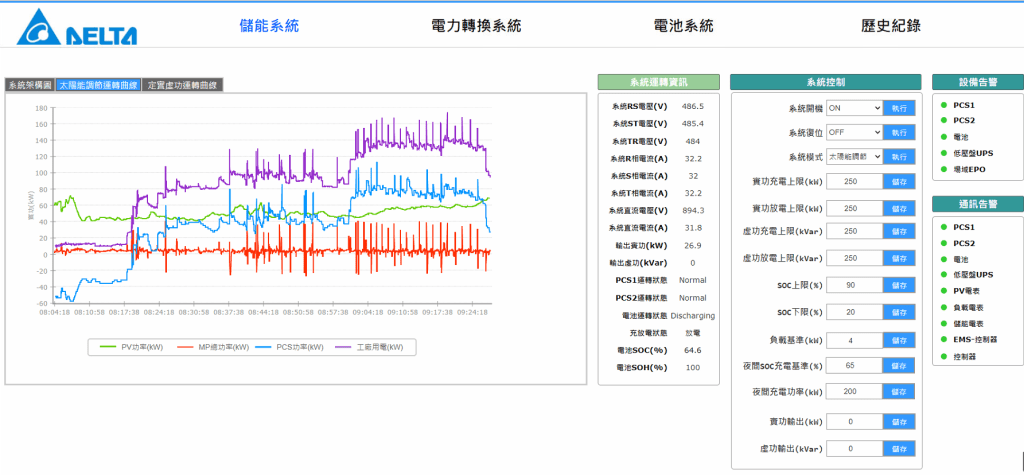 3. Backup power: This energy storage system also provides a backup power supply. When unexpected power outages disrupt waste solvent recycling operations, the entire recycling process must start from the beginning, which incurs additional labor and time costs. Delta's Energy Storage System has the capacity to supply emergency backup power that helps San Shin minimize its operational risks due to from power outages.
San Shin transitions to renewable energy through its partnership with Delta
San Shin's Pingtung plant officially launched Delta's Energy Storage System in May 2022. The system, integrated with PV and energy management capabilities, has effectively regulated the consumption of electricity in the plant. Initially, the Pingtung plant had a contract capacity of 600kW, which has been reduced to 400kW since the system was installed to generate and store PV renewable energy. The setup has not affected plant operations, nor has it incurred penalties due to peak overload. It also reduced monthly electricity expenditures, thus helping San Shin to save on operating costs.
San Shin's newly constructed Pingtung plant is yet to reach full production capacity. Because domestic demand for handling semiconductor solvent waste is projected to increase in the future, San Shin plans to expand the installed capacity of its rooftop PV system and energy storage system to 300kW and 500kW/1056kWh, respectively, thereby generating more renewable electricity for in-plant use. In doing so, San Shin strives to become a 100% renewable electricity user and advance toward RE100 goals. They ultimately hope to free themselves from the price competition of traditional industries and bolster their green competitiveness to vie for opportunities in the chemical and solvent recycling business.
Learn more about Delta Energy Storage Solutions
Read more
Delta Energy Storage System: A Versatile Energy Management Strategy
Delta Energy Storage Solution Improves Power Supply Stability at Taipower's Kinmen Xiaxing Power Plant
Delta's One-Stop Solution Helps NCUE Build a Megawatt Energy Storage Demonstration System