With its mission statement of "smarter, greener, together", Delta offers a series of solar inverters, including single phase string inverters, three phase string inverters and centralized inverters, to cover a wide range of applications.
Delta Solar Inverter Product Lines
Delta's single-phase inverters H2.5-5A and H5A are suitable for general residential buildings and small factories. They are extremely light weight, making installation simple and easy. In addition to their fanless design reducing running noise, they can also be connected to cloud management platforms and mobile app services for data management and remote monitoring functionality.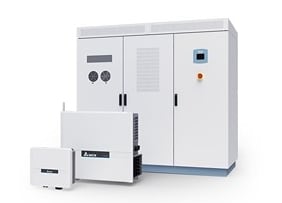 Delta's three-phase inverters are suitable for commercial, industrial, and large-scale utility solar plant applications, with output power ranging from 6kVA to 140kVA. The entire series are IP65-rated, making them suitable for use in various outdoor environments. Being equipped with 1 to 6 MPP trackers gives our inverters greater power generation efficiency compared to those offered by competitors. They also feature programmable real-power control functionality that improves the operational stability of systems and power grids. See the whole series.
Central inverters are for large-scale solar plant applications. Boasting 98.84% ultra-efficiency, Delta's C1000 solar inverter not only ensures optimal and stable solar system operation, but also brings the highest grid connection rate for utility power. In particular, the miniaturized body design makes planning more flexible for solar plants while also minimizing land cost and space demand.
All of them can be managed with Delta's solar plant monitoring system, which combines a cloud management platform and wireless data collector to provide remote control of solar systems. With the ability to obtain power generation information and equipment status information through our data collectors, operators can more accurately detect abnormalities and eliminate problems in real time, ensuring stable operation of solar power generation systems and optimized power generation efficiency.
Applications
Delta's solar inverters can be applied to various scales and types of plants, including residential rooftops, integrated solar systems for commercial and industrial rooftops, and megawatt-level solar plants.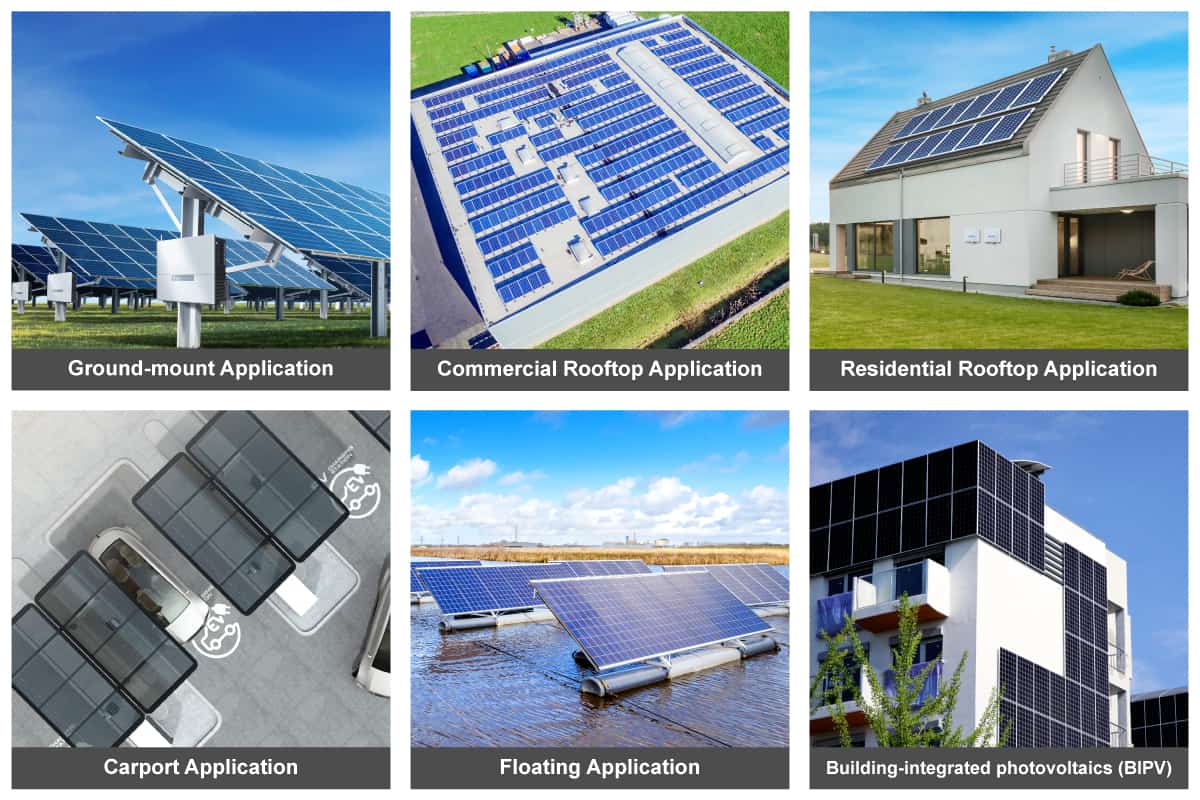 Success Cases
Delta's solar inverters have been installed worldwide in all types of solar farms. Some major cases are Southern Germany's largest ground-based photovoltaic plant, 12MWp Solar PV Power Plant in France, and 50.4MW Landmark Solar PV Project in Vandel, Denmark.
In the Southern Germany case, Delta will provide approximately 1,500 M70A inverters required to fulfil the site's needs. With peak output of 120 MWp, the solar plant is expected to generate 110 million kWh of electricity every year. The electricity generated from Solarpark Schornhof is sufficient to power up to 30,000 households, with the aim to cut CO2 emissions by up to 77,000 tonnes per year.
In the 12MWp solar energy project in Mios, France, Delta provided 132 M88H PV inverters, featuring up to 98.8% efficiency and IP65 protection, and its technical support. This massive project is expected to generate 15.1 million kWh of clean electricity annually, enough to power an estimated 5,600 French households while preventing close to 1,238 tons of carbon dioxide emissions per year.
In the Denmark case, Delta supplied 1,008 units of M50A series solar PV inverters, featuring leading efficiency of up to 98.6% and IP65-rated enclosure, support the cluster of power plants, which is expected to generate more than 71.7 million kWh of clean electricity per year. This is enough electricity to power 21,500 Danish households and the equivalent to an annual reduction in carbon dioxide emissions of approximately 30,940 tonnes.
Can't wait to build yours? Talk to a Delta expert today by leaving us a message