In response to industrial needs, Delta has developed a series of precision electronic measuring instruments and factory automation test systems to offer one-stop solutions with high accuracy, immediate response, and easy-to-measure test equipment and detection systems for industrial manufacturing.

Programmable DC Power Supplies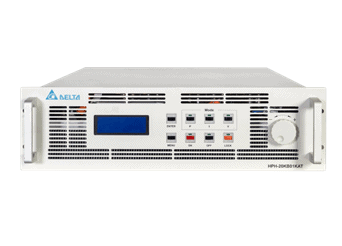 High Voltage Power Supplies
Delta's high voltage DC power supplies feature tight regulation, small output ripple, and superior arc quenching ability. DSP-based digital control provides users with an accurate, repeatable, and quick output response. Up to 1900 V, adjustable ignition voltage is suitable for a diverse range of applications.
High Voltage Pulsed Power Supplies
The high voltage pulsed DC supplies are equipped with asymmetric pulsing output, which dramatically reduces arcing. With Delta's microsecond arc detection, the output will be reversed to a positive output to eliminate arcing and reduce arc energy.
Medium Voltage Power Supplies
Switch mode power supplies with active power factor correction, full range input voltage, and auto-switch constant voltage and current output. Ideal for laboratory or large-scale mass production testing.
Low Voltage Power Supplies
Designed to provide a wide range of variable voltage and current with high precision and stability, these power supplies achieve high power density and small package size with high efficiency. Low ripple, quick output response, ideal for various applications.
Programmable AC Power Sources

AC Power Sources
The output power of Delta's programmable AC power sources are from 1.5 to 9 KVA (A1500, A3000, A6000, A9000). Equipped with advanced DSP technology for accurate electronic parameters, they also have 30 sets of mainstream waveform synchronization built in for simulating various power grids, with comprehensive circuit and fan protection for ultimate safety.
Download brochure for Delta's full series of programmable power supplies.

Need a total test solution for your lab? Talk to a Delta expert