Facing major trends in green energy, energy-saving, carbon reduction, and digital transformation, many petroleum companies have started exploring new business directions and service structures following the growing popularity of electric vehicles (EVs). A global leader in power management, Delta has cooperated with Idemitsu Kosan, the second–largest petroleum company in Japan, to renovate the Idemitsu Kosan gas station (which operates gas stations all over Japan) in Yokohama as an EV charging station. 
This demonstration station integrates IoT (Internet of Things), V2X (Vehicle to Everything) and Smart Grid technologies to provide not only charging services for EV owners, but also café services and retail IoT applications. All phases, from planning and reconstruction to operation, were completed through coordination between Delta and Idemitsu Kosan. The official opening of the station is set for August 8, 2020. If this innovative business model proves successful, it will help traditional gas stations find new directions for future transformation while providing a novel way to promote businesses such as department stores, marketplaces, parking lots, and even theaters, all of which will make charging services for EVs more convenient and popular in the future. 
Innovations and challenges faced by energy industries for Utility 3.0 
In 2018, the Japanese government announced the Fifth Basic Energy Plan, revealing the country's policy goals for energy transition and decarbonization by 2030. This has been the driver for the novel topic of Utility 3.0, meaning that the Japanese energy industry is about to face new changes for Utility 3.0 after the reform of Utility 2.0 power liberalization. With changes to rules affecting the energy market, the industry's greatest challenge will now be how to utilize the innovative development of energy systems to create diverse business models and industrial ecological chains that meet the energy transition requirements while also taking care of Japan's 3E+S (safety, energy security, economic efficiency, and environment) energy policy objectives. 
Transforming gas stations into charging stations and cafés 
Given Delta's experience implementing complete charging and energy storage solutions and their ability to develop smart energy management systems, the company has a proven track record in providing complete one-stop-shop solutions. When Idemitsu Kosan decided to try to transform its gas station and begin promoting the charging station test plan, they sought to cooperate with Delta to transform one of their older gas stations in Yokohama into an EV charging station that matches the green energy development trend.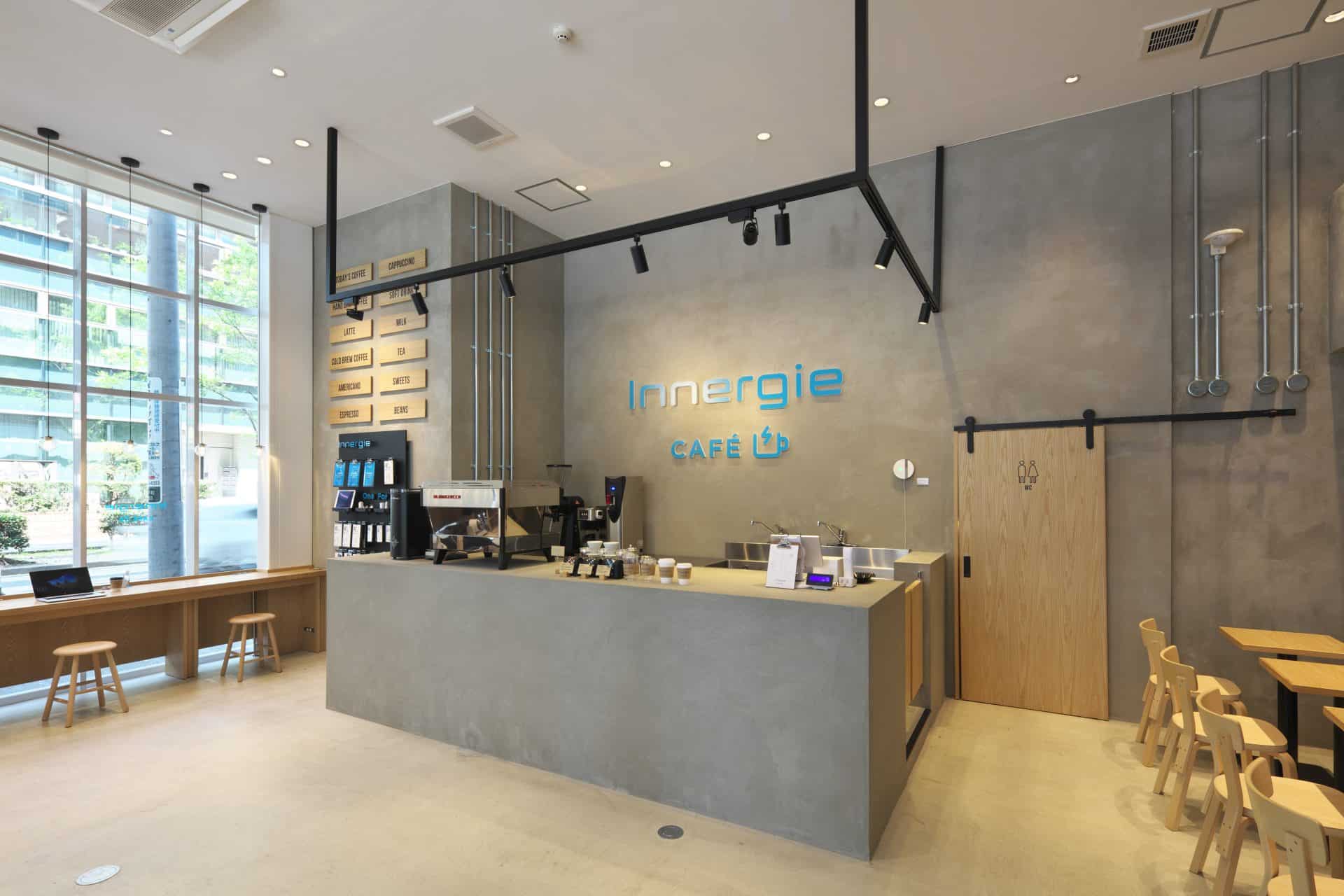 Reconstruction involved removing all the oil tanks originally located under the building and converting the vehicle maintenance and oil change rooms into commercial power conditioning systems (PCSs) and battery energy storage systems (BESSs). Additionally, aboveground refueling equipment became parking spaces for an unmanned parking system with three Delta DC Wallbox DC EV chargers and one V2B (vehicle-to-building) bidirectional EV charge/discharge charger. The carwash was transformed into the Innergie café with high ceilings and bright spaces, and retail IoT solutions such as large projection equipment and air quality management were introduced. The small retail store attached to the gas station was transformed into a multifunctional exhibition space for art exhibitions, and the offices on the second floor were transformed into a monitoring center. This allowed managers to remotely monitor operations including the electricity usage of chargers and operation status of environmental equipment. 
After the gas station was transformed into a charging station, the electrical facilities were also changed to 400 V. For safety, Delta equipped the station with various sensors to monitor for water leakage, water levels, and earthquakes in the electrical room. This was configured so that in the event of a natural disaster, such as flooding, tsunamis, and earthquakes of magnitude 5 or higher, the electrical system will automatically cut power to avoid accidents. 
IoT+V2X+Smart Grid create a new generation of charging stations 
Once EV owners enter the charging station area, they will receive an automatic prompt from Delta's patented EZQC App payment system, which has simple registration and verification processes that do not collect personal information from users. Only three simple steps are required to perform charging or electricity-selling, and payment can be settled with a credit card or service such as Apple Pay. This guarantees convenient usage while also protecting privacy.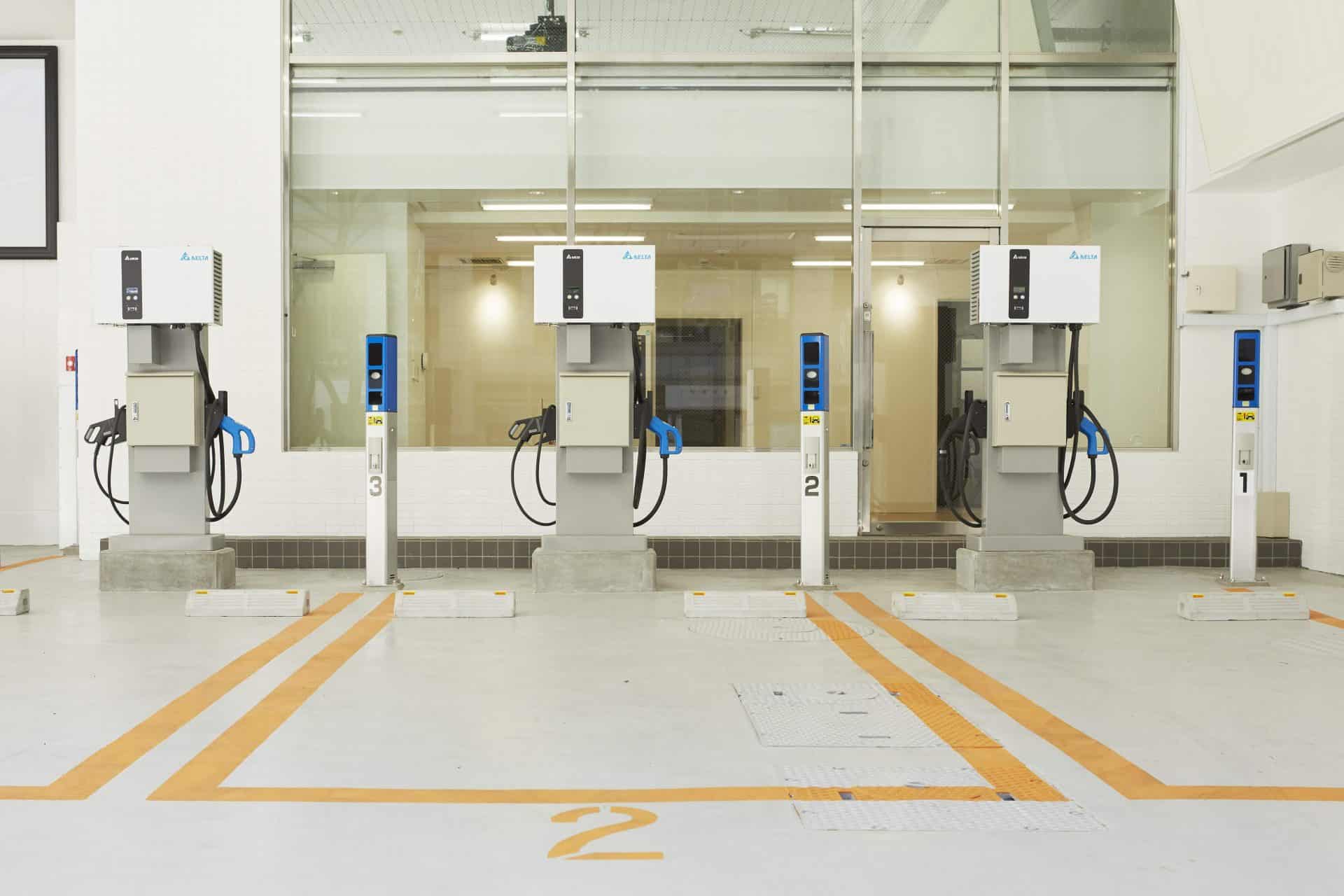 It takes approximately half an hour for each charge, giving EV owners an opportunity for rest at the café to also recharge themselves both physically and mentally. While waiting, they can use the E-coupons provided by the EZQC App payment system and enjoy a cup of high-quality coffee at the café, or shop at nearby cooperative stores or marketplaces. Seats at the café are also equipped with Delta's Innergie universal quick chargers, allowing customers to charge their mobile devices while waiting for their EV to charge. 
Mobility + Utility Five major solutions with modular integration 
Delta's Yokohama EV charging station is a bold attempt to integrate power system and transportation technology, and it is also the realization of the objectives of green transportation and EV implementation. Based on Delta's energy infrastructure solutions, including PCSs, BESSs, and EV chargers, the DeltaGrid® energy IoT management platform was integrated with the EZQC payment system to provide an improved user experience and innovative services that together have created a new business model where mobility and the utility of power infrastructure are compatible. 
This demonstration station consists of five major solutions designed by Delta. If other gas stations or malls plan to adopt this model in the future, modular adjustments can be made according to actual requirements and specific environmental conditions, so that when new cases are pushed in the future, the time for planning and deployment can be reduced significantly. 
These five major solutions are: 
EV

 charging and payment system solutions:

 This includes 

charger 

installation, EZQC App mobile phone application 

development, 

and payment mechanism

 integration

. This demonstration station has three 

25

–

kW DC output DC Wallbox wall-mounted chargers and 

one 

V2B 

EV

 bi-directional charge

/

discharge charger.

 

Energy storage solution

 (ESS)

:

 Through the deployment of Delta's commercial 

PCS

, 

BESS,

 and control equipment, peak-shaving and optimized contract capacity were achieved. The charging station will dispatch power from the 

ESS

 during peak charging periods, and then charge the batteries 

during 

off-peak hours when electricity prices are lower

,

 

thus saving 

on electricity costs. Also, for many 

EV

 charging stations, customers

' charging needs

 are difficult to fully control. When multiple vehicles enter the station and use the quick charge service simultaneously, 

this places 

pressure 

on 

the power grid. In 

such instances

, 

leveraging 

the 

ESS

 

during

 

sudden peaks in demand will allow the station to keep within the optimal contract capacity plan and achieve economical operating results.

 

Emergency power supply system:

 

Should 

a disaster 

interrupt the 

power supply, 

the station 

can provide power supply services for 

"

refuge-like facilities

.

"

 

Because the station is equipped with a V2B 

bi-directional EV charge

/

discharg

e charger

, 

EV

s

 

can be used to supply power back 

to the grid. 

Furthermore, because the 

EV charging station

 

is equipped with 

a portable battery, it can 

be used 

to serve surrounding residents during 

a 

power outage

,

 

s

upply

ing

 

emergency power to achieve business continuity planning for post-disaster communications and life support.

 

Retail IoT environmental management system:

 

This enables automatic monitoring and adjustment of 

environmental conditions 

in 

the café

,

 including temperature, humidity

,

 

light

ing,

 

and 

air-conditioning

,

 

thus 

achiev

ing

 optimal environmental comfort and energy conservation.

 

Digital projection solution:

 High-lumen projectors display high-quality images for stores to project 

anything from 

advertisements 

to 

movies

.

 

They can also be 

use

d

 

for 

retail digital signage or 

even to 

display paintings or 

other 

artwork

,

 

thus 

enhanc

ing

 

the 

customer 

experience.

 

Delta's leading technologies provide comprehensive solutions

 
Faced with the prospect of extreme climate disasters resulting from the greenhouse effect, countries around the world are pushing green energy and carbon reduction strategies to reduce dependence on traditional petrochemical energy. The promotion of EVs is among this effort, and the convenience of charging is a key factor as to whether EVs can become more popular in the future. Delta has accumulated a wealth of experience in power products for over half a century and has complete product lineups, system development experience, and Energy IoT technologies, making them able to provide customized one-stop solutions. The benefits of Delta's Yokohama EV charging station clearly demonstrate this: 
For terminal vehicle owners, Delta's Yokohama 

EV

 charging station provide

s

 more convenient charging infrastructure and 

all

–

new consumer experiences. The 

development of the EZQC App payment system is also a great breakthrough for Delta. Currently, the main charging services in Japan require 

EV 

owners to apply for charging cards in advance

; however

, EZQC only requires downloading the 

app 

and entering payment information 

for 

immediate

 use

.

 
For charging station operators of gas stations or shopping malls, Delta's complete product lines and modular solutions can 

simplify 

station planning and shorten reconstruction

 times

. Delta's Yokohama 

EV

 charging station demonstrates a new operation model that 

combine

s

 

charging service

s

 and mall functions. Once implementation is successful, it could easily be copied to other cases or different industrial fields to help 

realize 

Utility 3.0

 objectives

.

 
Interested in building similar system? Talk to a Delta expert