The Department of Transportation in Taipei City has set up EV DC chargers at Dazhi Taxi Service Station, providing fleet charging support for mainstream EVs. The load is controlled by DeltaGrid® EV management system in order to prevent any overloads at the station. This user-friendly hardware and software solution simplifies EV charging for taxi drivers.
The electrification of transport has been one of the most widely discussed issues in recent years. With policies and automobile manufacturers promoting the use of electric vehicles (EVs), the long-term view is that traditional combustion engines will one day be a part of history, with cars of the future looking to electricity rather than gasoline as a power source. Once EVs become popular enough, EV charging stations will begin to replace petrol stations and become key points of travel for drivers who need to recharge their EV.
(Insight of Delta EV Charging Solutions:https://youtu.be/IZ7YPAaOZS0)
In metropolitan areas, private ownership of EVs is also more commonly accompanied by taxi fleets of EVs. Given the amount of time they spend driving compared to regular car owners, taxi drivers have a much higher demand for vehicle charging stations. While private owners have the convenience of being able to charge their car at home and can plan their trips around nearby charging stations, taxi drivers, due to the nature of their business, have more immediate needs when it comes to recharging their cars­—regardless of when or where they are. Even if a taxi driver does manage to find a charging station, a lack of standards in the industry means that some stations might not actually support their car. In addition to purchase and maintenance costs, the fact that it is not always easy for taxi drivers to recharge their car conveniently and in a timely manner is a key reason as to why taxi drivers are not in a rush to purchase EVs.
The First Taxi Fleet Charging Station in Taipei City
The Department of Transportation in Taipei City has set up five 24-hour taxi service stations across the city, offering taxi drivers a place to rest, eat, and exercise after a long day of driving. Taking a one or two-hour break gives them the perfect amount of time to recharge their EV. To accommodate their charging needs, some of the following considerations were made during system design:
Support for mainstream EV charging connectors: Currently, there are no standard connectors for EVs, and this is a key cause of compatibility problems. Because taxi drivers drive different types of vehicles, charger incompatibility needs to be avoided at all costs.
Charging efficiency: Time is money for taxi drivers, and it is rare enough for them to have time to take a proper break. Wasting time waiting for other cars to finish charging would definitely be unacceptable for taxi drivers.
Charging management: In addition to high electricity costs, uncontrolled and unregulated charging poses a high risk for causing an overload. Effective management of energy usage at charging stations is therefore critical.
Delta and its partner have set up the first taxi fleet charging service station in Taipei City Dazhi Taxi Service Station. It currently services a taxi fleet of more than 140 EVs. With this service station as an example of the potential for future expansion, other taxi fleets are encouraged to transition to EVs to play their part in reducing urban transport emissions and building a clean, sustainable city.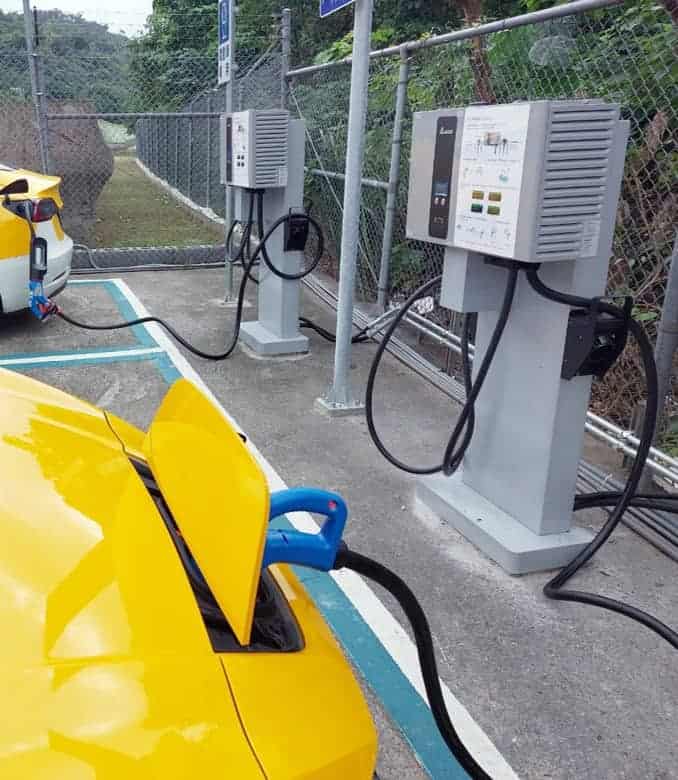 Delta 25kW DC Wallbox Supports Dual Charging Connectors for all EVs
The Dazhi Service Station has two Delta 25kW DC Wallbox chargers, each supporting CCS1 and CHAdeMo connectors for mainstream EV models. The administration office at the station is also equipped with a Tesla adaptor for Tesla drivers. The 25kW power output can deliver up to 125km of travel distance with only one hour of charging; more than half the distance taxi drivers would travel on a daily basis. After completing a trip, taxi drivers can return to the Dazhi Service Station to rest while recharging their car.
Managing the Energy Usage of Taxi Fleet Charging Stations with DeltaGrid® EV Management System
Chargers in the Service Station have a built-in OCPP communication interface, which allows DeltaGrid® EV Management System to monitor the status of each charger. This keeps station administrators informed on the charging history and fees of each charger, with a comprehensive overview of which chargers are in use, their time in use, and how much electricity they use. The digitization of electricity information helps administrators collect and analyze historical data on electricity usage, and this can be used to continually improve the efficiency of each taxi fleet charging station.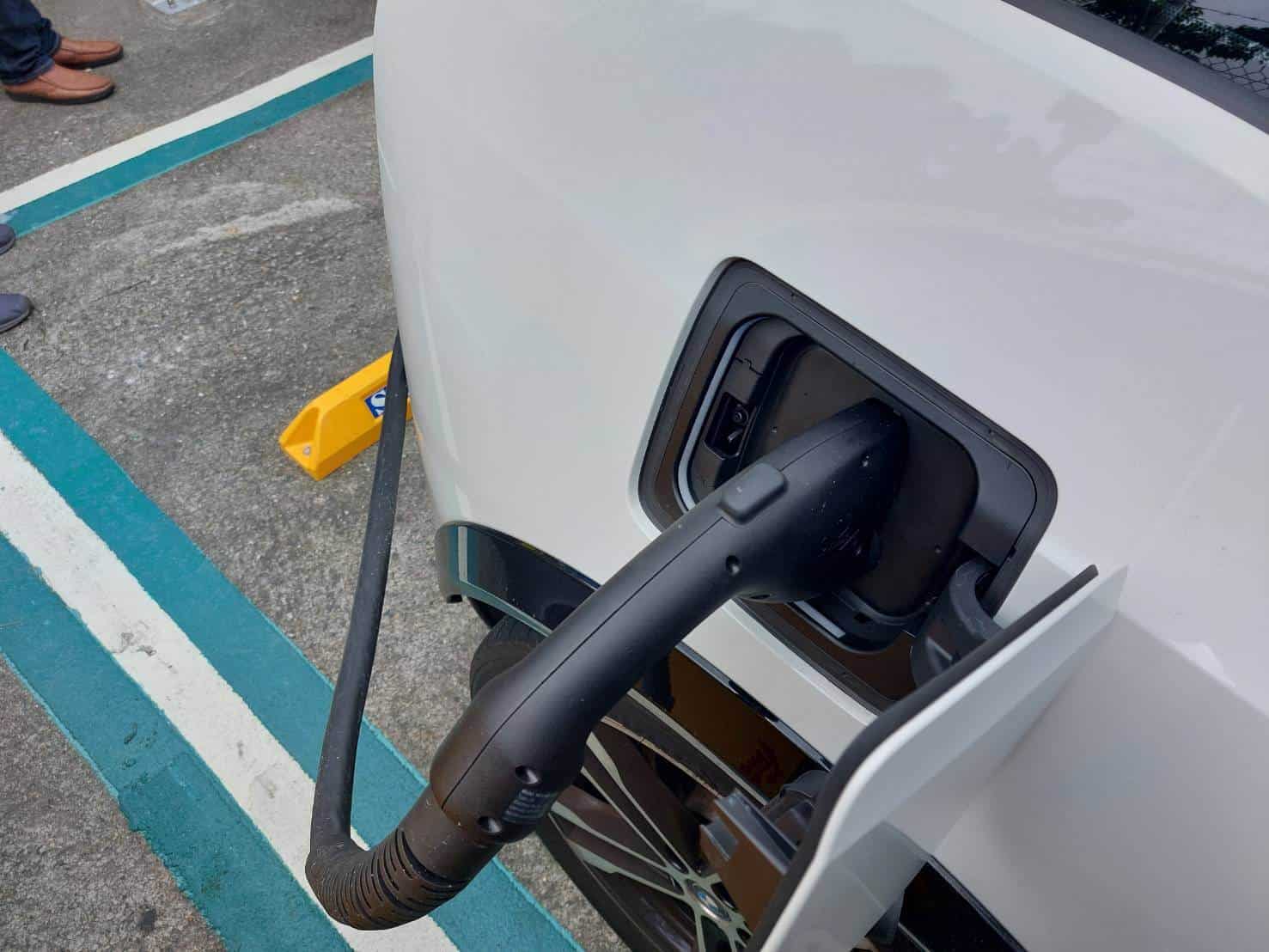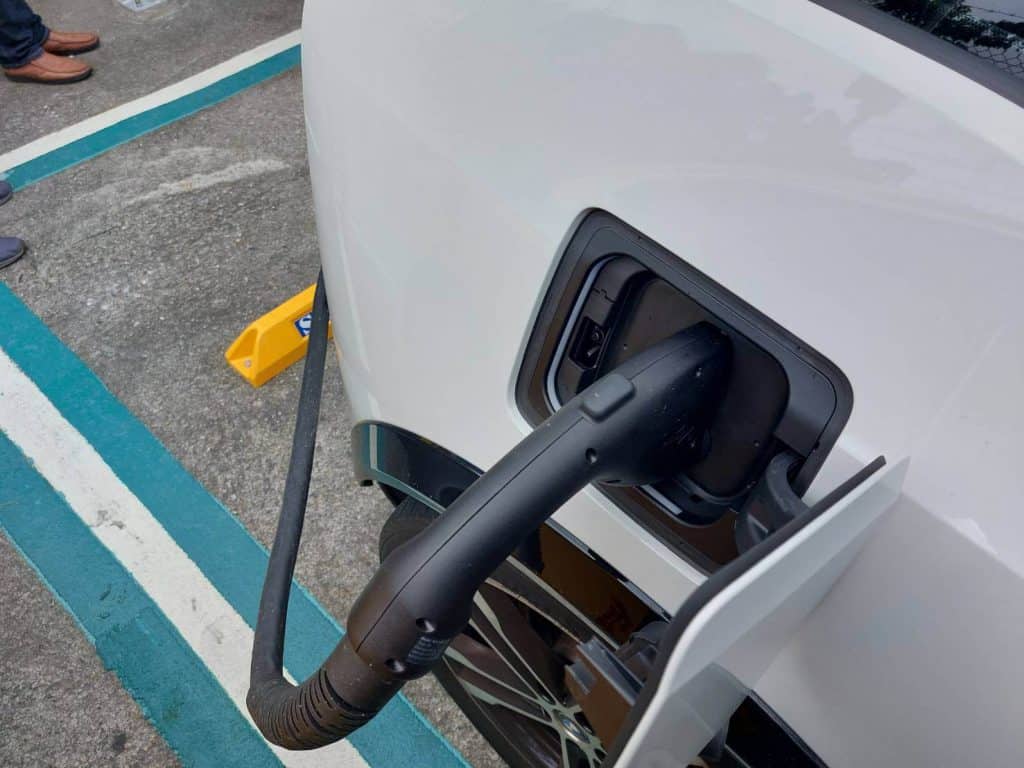 Collecting historical data on electricity consumption also makes it easier for EV charging stations to set their prices more flexibly. With DeltaGrid® EV Management System, charging fees can be set according to the cost of electricity, peak and off-peak electricity prices, specific dates, or member attributes, thus making fee-charging much more convenient. DeltaGrid® EV Management System also sets current-limiting based on the electricity price that Taipower charges at different times of the day. Maximum charging limits can also be set during peak periods to avoid overloading. EV charging during off-peak periods is encouraged in order to avoid distributed charging during peak consumption periods, thereby ensuring stable power consumption and lower electricity prices for EV owners.
Delta's chargers have already left a footprint throughout everyday life in cities — in residential communities, office buildings, industrial parks, commercial areas, public parking lots, and highway rest areas. This time, the Department of Transportation in Taipei City is implementing Delta's charging solution for EV taxi fleets, providing a missing piece of the puzzle for rolling out EV charging infrastructure on a larger scale in urban areas. Starting with the Dazhi Taxi Service Station, this charging service plan will be successively introduced to four other taxi service stations, creating a solid foundation of charging infrastructure for taxis to make the transition from combustion engines to EVs in order to help build a clean, sustainable city environment.
---
Learn More:
The Ideal Model for a Mid-Sized Community Charging
Delta converts the Idemitsu Gas Station in Yokohama Japan into an EV charging café
Delta create grid-friendly EV charging infrastructure for shopping malls