Power outages around the world have exposed problems associated with traditional electricity grids, including poor responsiveness to changes. With the increasing utilization of power generated by solar energy, wind, and other renewable energy sources, their intermittency poses problems for grid stability, particularly surrounding imbalances between supply and demand. Countries around the world are investing heavily in renewable energy and natural gas facilities, as well as other types of facilities for power generation. Advanced metering infrastructure (AMI) is a means by which electricity companies monitor changes in user demand. AMI has also been the focus of investment projects aimed at obtaining real-time information on user demand in order to achieve power generation and load scheduling based on actual energy usage, as well as the adoption of effective risk control measures in a timely manner.
Leveraging smart grids to optimize energy efficiency and grid stability
A fully integrated smart grid system encompasses all electricity-related facilities, from power generators (power plants) to power distribution facilities (substations, transmission lines) and users (factories, residential buildings, shopping malls, office buildings, and public facilities, and so on).
Everything to do with electricity grids, including energy use, can be monitored and visualized digitally in real time, thanks to the development of IoT technologies, sensors, network technology, and management platforms. Smart grids enable utility companies to observe the status and changes relating to power generation, transmission, and consumption in real time, thereby maximizing energy efficiency, such as through load scheduling, renewable energy utilization, and balancing power supply and demand. This aids in preventing accidents or facilitating instant responses to accidents in order to minimize any damage.
For users, the prevalence of smart grids reduces losses resulting from downtime due to power outage, and transparent electricity monitoring enables users to understand their energy usage at different times of the day, identify which electrical appliances use the most energy, and in doing so adopt practices that reduce electricity costs.
A comprehensive smart grid helps achieve the following objectives: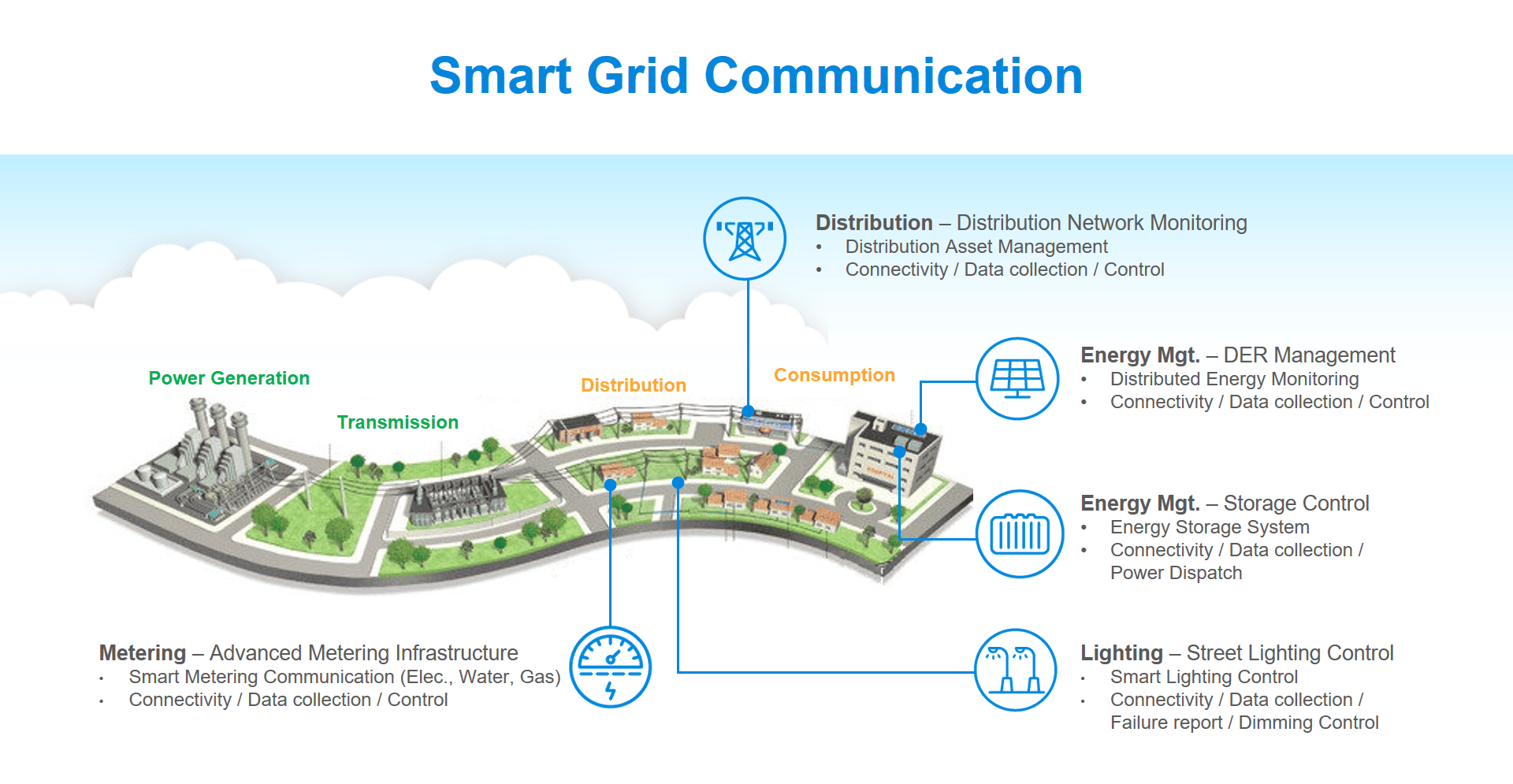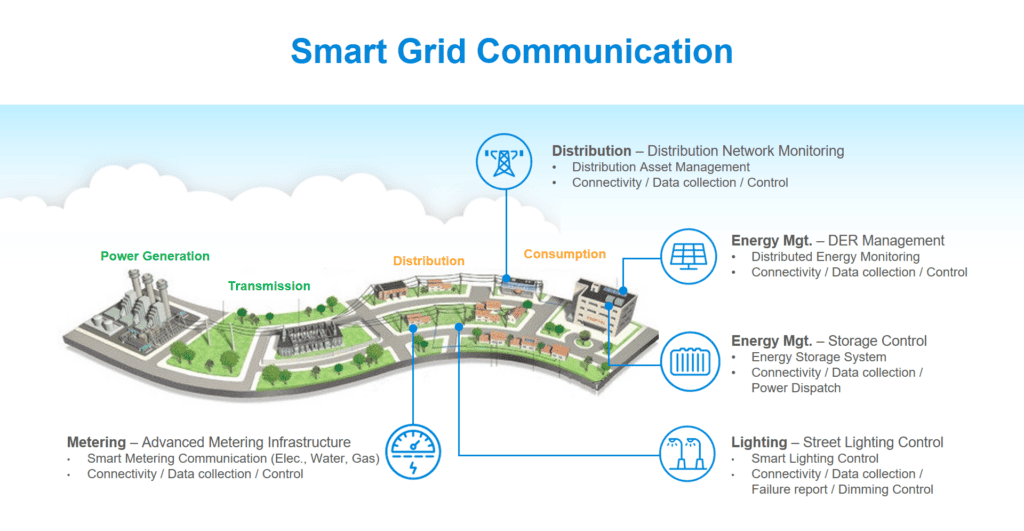 Effectively integrate renewable energy and schedule electrical loads in such a way that improves grid stability;
Strengthen power supply planning for utility companies, as well as shorten incident response times, and improve the quality of power supply services
Promote energy-saving practices among users through transparency and information disclosure.
Widespread implementation of AMI provides a basis for power suppliers to better plan smart grids
As the first step to transforming traditional grids into smart grids, AMI is an integrated system comprising smart meters, communications networks, and management systems. It indicates real-time changes in supply and demand, using the architecture of real-time communications metering networks and platforms to measure electricity consumption.
After acquiring meter readings, electricity companies can monitor real-time energy use, analyze and compare real-time data and historical data, gain insights into energy consumption and patterns. Smart grids feature automated metering functions that eliminate the need for manual meter-reading operations, thus saving costs and improving timeliness. Smart grids also generate real-time data that helps with the scheduling of electricity systems in order to balance power load demand.
In addition, smart grids provide accurate dynamic pricing functions, which reduce peak load by offering time-of-use rates that influence how users consume energy. Data on power supply and demand can be accumulated in the long term, providing utility companies with a clearer basis for planning scheduling and building energy storage systems, ultimately optimizing overall electricity generation costs and revenues.
AMI optimizes energy consumption for maximum effect with minimal effort
Previously, household users were only aware of their energy usage on a monthly basis. With smart meters, they can now monitor electricity consumption at their homes whenever they want. This includes identifying energy-intensive devices, which allows them fix their device accordingly. By comparing energy usage at different times or to others living in the same area, users can adjust their energy consumption behaviors and thus achieve conserve energy, reduce carbon emissions, and save on electricity costs. Furthermore, bill calculation and billing services can be managed digitally, making them faster and more convenient.
For commercial and industrial users, hourly comparisons of energy usage and precise energy monitoring of specific equipment can help optimize electricity consumption. A long-term benefit of AMI is that once users are aware of their usage patterns, they can formulate a corresponding strategy to save energy and in turn determine their optimal contract capacity. In terms of emission reductions, the tracking of universally defined Scope 2 emissions includes "manufacturing energy consumption." Only with a smart meter can the energy consumption of individual pieces of equipment used in every product manufacturing process be effectively calculated and converted into CO2 equivalents.
Other smart metering applications similar to smart electric meters include smart water meters and microcomputer gas meters. These applications can be leveraged to monitor utility consumption in real time, detect leaks, and avoid idle operations, thereby reducing utility bills and ensuring user safety.
Delta's smart meter connectivity solutions
As a provider of clean energy solutions, Delta offers smart meter connectivity solutions that include the communications module for smart power meters and smart water meters, using diversified wireless communications technology to develop integrated smart power/water meter connectivity solutions for meter manufacturers, system integrators, or public utilities.
The meter solution comprises a communications module that is compatible with wireless transmission technologies such as NB-IoT, Sub-1G RF, and LTE; data concentrator; and front-end management system that can integrate information into larger management systems.
Specifically, NB-IoT and LTE are characterized by a distributed architecture, which makes these technologies suitable for use in scattered residential buildings (e.g., stand-alone houses), whereas Sub-1G RF is suitable for deployment in a centralized architecture (e.g., multi-dwelling units). The data concentrator compiles data, which is transmitted via LTE to the management system of power or water companies.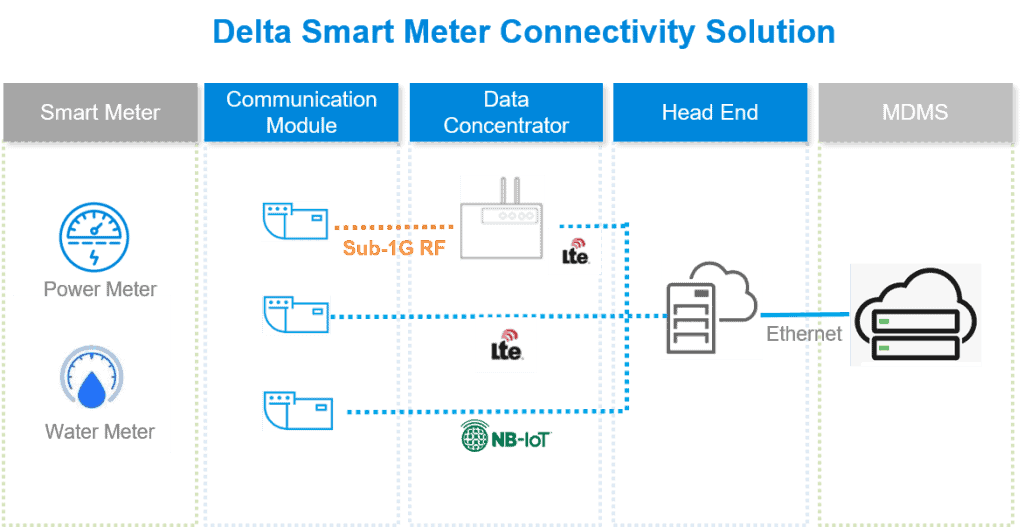 Delta's smart meter communication module has been successfully adopted in nearly 800,000 smart meters in Taiwan and abroad, including in Thailand, Japan, Philippines, and Vietnam. For instance, Taipower, a state-owned utility company in Taiwan, has deployed high-voltage and low-voltage AMI communication modules, and the Thailand-based Provincial Electricity Authority (PEA) has also deployed its first AMI. Delta hopes to bridge the digital transformation of electrical grids by developing communications, data collection, and control capabilities in energy infrastructure in order to accelerate the development of smart grids.
---
For more product infroamtion, please visit Delta website: https://www.deltaww.com/en-US/Products/Delta-Grid-Metering/ALL/
Smart energy management success case: https://blog.deltaww.com/en/energyinfrastructuresolutions-en/success-cases-en/deltagrid-energy-management-revitalizing-energy-efficiency-for-the-industrial-sector/